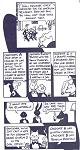 Bird is a bird, Bun is a rabbit. Bird & Bun are lovers. Bird & Bun are gay. Bird & Bun live in the same world as ours... except most people in their world are animals. But unfortunately for them, they do have a George Bush, a Rush Limbaugh, or a Dr Laura.
Birdbun Theatre is, in fact, a very interesting combination of political cartoons (see image on left) with queer humor (see image on right). This compilation of the first year and a half of the strip (a few other strips are available on the site) shows us Bird and Bun among friends, traveling by Zeppelin, meeting Rush Limbaugh - and giving him a new life -, showing anger at homophobia and love to each other...
Dennis Tucker has found a unique voice in these seemingly harmless characters. The use of talking animals creates a distance from reality, and enables him to make his social commentaries all the more effective. The gentle humor, often quite camp, is also rarely seen in gay strips. It isn't a humor based on the mainstays of current 'gay culture' (although there's a recurring page on 'club types' which is really funny), but rather an irony I find refreshing.
This strip does not try to shock or titillate, but it does offer food for thoughts in numerous occasions. It is as witty as it is clever. It is the perfect companion for an evening, just like a trusted friend.