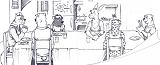 At 6 Kinsey Circle live six men. They share the house, and some share more than that. They're all gay... and they're anthropomorphic animals.
Circles, while an obvious heir to Associated Student Bodies in that respect, has a very different feel, even after only two issues. The characters are between 20 and 53 and, well, there isn't any sex shown. That's a big difference.
An interesting storytelling device is used in this series: Paulie, the oldest character, keeps a diary. Each issue begins and ends with excerpts of this diary which is written to his lover, Douglas. Since Paulie is living with aids, it seems obvious he intends to have Douglas read all this when he's dead. This adds a poignant aspect to a story which is generally full of life and warmth.
As for the art, the lack of background is well made up for by the facial expressions which are extremely well-rendered. The characters really come alive thanks to the art: the dialogues are already very good, but without good artists, the outcome wouldn't be as engaging.
As far as I can tell, the authors intend to explore the various relationships between the characters, be it love, friendship, attraction, or distrust, as in the case of Douglas and Arthur, another housemate. Although it could be said that the characters each correspond to a type of gay man, they are already fleshed out, well enough to give a feeling of their wholeness as a person.
Circles is another example of realistic gay fiction, set in a world where aids exist, where young gays have to come out to their family, sometimes with unexpected results. The authors obviously care for their series, and I can only hope more readers will want to spend some time in this cosy home.