On this page:

•
•
•
•
•


Previous:

• 2021
• 2020
• 2019
• 2018
• 2017
• 2016
• 2015
• 2014
• 2013
• 2012
• 2011
• 2010
• 2009
• 2008
• 2007
• 2006
• 2005
• 2004
• 2003
• 2002

Entries for October 2002:
<previous | next >
Monday, October 21, 2002

After two months without writing new paper comics reviews, I've begun to take time to try and make it all better. The first victim of my newly-found enthusiasm is Jay Laird's Tales from the burning village.
And a few days ago, I added two beautiful head sketches by Andrew Lomis to the gallery pages.
[ permanent link ]&nbsp [ comment: 0] [ top ]
-------------
Sunday, October 20, 2002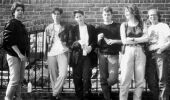 I don't know whether you've heard of I Have to Live with this Guy!
Published by TwoMorrows, it is a collection of interviews of the partners of various comics creators, including Howard Cruse. So, if you want to see what his partner, Ed Sedarbaum, has to say, and what he lets the reader see of their lives together, buy the book!
As for the photo on the left, it is included in the book, and includes, from left to right: Jennifer Camper, Diane DiMassa, Alison Bechdel, Robert Kirby, Joan Hilty and Howard Cruse. Rob Kirby says it was "circa Boston, probably around 1993 or '94, if memory serves."
[ permanent link ]&nbsp [ comment: 0] [ top ]
-------------
Thursday, October 10, 2002








The second part of the transcription of the Gays in Comics panel from the San Diego Comic-Con is available on the Sequential Tart site. This is a lively and intelligent discussion about what it means to write a character that is different from oneself, and what kind of responsibility queer creators have.
A very recommended reading.
As is the rest of the Sequential Tart site, one of the most incisive comics sites.
[ permanent link ]&nbsp [ comment: 0] [ top ]
-------------
Saturday, October 05, 2002



Fantasmagoria



Author(s): x.




Usually, I'm not very much interested in gay comics with lots of overmuscled guys doing naughty things. But Fantasmagoria, the (paying) online comic I want to write a few words about, is a bit more than that.
Set in the 1950's USSR, the story focuses on Boris, a young factory worker who finds himself implicated in the machinations of a traitor who intends to sell nuclear secrets to the USA. That's the first thing I found original: Boris is proud of being Ukrainian, and selling secrets to the USA is something he finds despicable. That's refreshing.


The second idea I really liked were the "talking statues", huge stone figures of naked men who seem to populate this imaginary Moscow. They are the Greek chorus of this story, worrying about the safety of their protégé, the naive and sentimental Boris.

Apart from that, there's a lot of sex in that story, between Boris and Dimitri, his dangerous boyfriend, as well as between the other guys, and some of it is quite hot.
As you can see from the art samples, Stefan, the artist, works with computer-generated images. I must admit I often find CGI to be cold and not very sensual, but through varied facial expressions and a large palette of colors, Stefan managed to make me believe in Boris and I ended up enjoying very much his decidedly unrealistic adventures (he runs through the Russian winter naked... but with his boots). The obvious good humor which permeates the story helped a lot, too. One last thing: the samples have French dialogue, but the story is available in English as well as in French.
I hope we'll see more of Stefan's work online, although from what I've been told, he's busy enough working in the real world. Good for him, but a loss for gay readers. So, go and enjoy his work available online.
[ permanent link ]&nbsp [ comment: 0] [ top ]
-------------










David Kelly, the author of the Steven's Comics series, has posted the first part of a new story on his site. All About Boys is a follow-up to Steven's Comics, and this first diary entry (it is Steven writing to a friend of his) shows Steven going back with his father for the summer, still being used by the warring grown-ups as if he were a lethal weapon in the fight for supremacy. As usual, David Kelly manages to show the kid's side, without being maudlin. Definitely recommended.
[ permanent link ]&nbsp [ comment: 0] [ top ]
-------------