On this page:

•
•
•
•
•


Previous:

• 2021
• 2020
• 2019
• 2018
• 2017
• 2016
• 2015
• 2014
• 2013
• 2012
• 2011
• 2010
• 2009
• 2008
• 2007
• 2006
• 2005
• 2004
• 2003
• 2002

Entries for December 2004:
<previous | next >

Thursday, December 30, 2004
Various news
(List all)

Sticky #1






Eros Comix, the erotic branch of Fantagraphics, has published a gay erotic comic by Dale Lazarov and Steve MacIsaac.
Here's the official description : " The first issue in a new series of erotic tales of man-on-man carnality and sweetness. In "Hold On", a casual street fair hook up between two hot guys turns into an extended challenge to see how far they can go while delaying orgasm. And they go pretty far! "
I've got a page from the comic to show you. It looks pretty good. Sticky #1 is available online from the publisher, although there are no pictures yet on their site. More about it when I get a copy.




[EDIT, 01/04/05: I've read a copy of the comic, which I've liked a lot. Here's my review.]


[ permanent link ]&nbsp [ comment: 0] [ top ]
-------------
Saturday, December 18, 2004
Blog review
If you don't see the images of a review, it means that I've transferred it to the new site. - Feature
(List all)

French gay BD (1)


Category: aids, autobiography, coming-out, french, humor, slice-of-life.
Author(s): Hugues Barthe, Copi, Cunéo, Annie Goetzinger, Jean-Paul Jennequin, Fabrice Neaud, Tito.
Year of publication: 1986-2004.



A little French lesson to begin with: in the language of Molière, "BD" doesn't mean "bondage", but "bande dessinée", "drawn strip", literally. So, I'm not going to present the customs of French amateurs of ropes and pliers, but rather a few gay-themed French graphic novels of various lengths, beginning with the oldest.

In the 80's, Gai Pied (a name supposedly invented by gay philosopher Michel Foucault) was THE French gay newsmagazine, and among other things, there were strips in some of the issues (they also published some of Ralf König's earliest strips). Copi, a well-known Argentinian playwright and actor who later died of aids, wrote and drew a series of one- or two-page jokes, which was collected in a 1986 album titled Le Monde fantastique des gays ("The fantastic world of gays") - it's interesting to note that the publisher is one of the large BD publisher and that it later published the French versions of König's albums. With a deceptively simple style, Copi affectionately ridicules everything and everybody, but also writes some very pointed dialogues on aids and homophobia. Like his plays, his strips are funny, cruel and insightful.
This album is unfortunately not available anywhere anymore, apart from various used booksellers.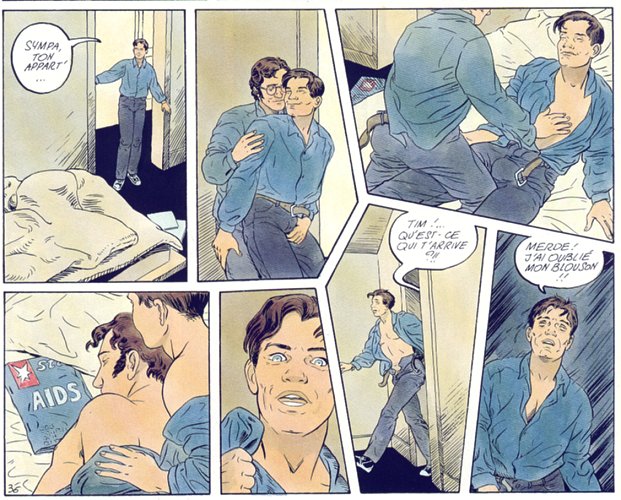 In 1992, Les Humanoïdes Associés, a BD publisher better known for his sci-fi authors such as Moebius and Jodorowsky, published L'Avenir Perdu ("Lost Future"), written by two German guys I've never heard of, and drawn by Annie Goeztinger, at the time one of the few women working in that medium. A real-life story portraying a group of gay friends and lovers hit by aids, this album is heart-breaking, all the more as Goetzinger's art is down-to-earth and her characters are believable and varied. As the title suggests, most of those people won't survive for long. A powerful story which would deserve to be reprinted, although one can still find copies at used bookstores, or at the amazon.fr site, for example.


Ego Comme X ("ego as x", pronounced "ego comix"), a small publisher made of a group of friends then specialised in autobiographical comics, published in 1996 the first volume of Fabrice Neaud's Journal, the autobiographical drawn diary of a small-town gay artist (Neaud still lives in Angoulême, where the internationally-known Festival of Bandes Dessinées takes place). Covering the years 1992 and 1993, this volume introduced the readers to an impoverished young man who wrestled with his unrequited love for another guy - not an original subject, but the literary level is high. Talking about cruising in public parks and his preference for strong manly guys, Neaud also managed to make great comics while very seriously discussing homophobia and masculine behavior. Neaud is now an important author among the more intellectual artists working in BD (but he's also stated his interest in superhero comics, which I guess can at least a little be linked with his sensual tastes). His Journal series, drawn in a very realistic style for which he intelligently uses photos (his storytelling is quite striking and proves he's doing sequential art, not photo-novels), is now in its fourth volume and can be found on the publisher's site.

Back to the more humorous side of life, we find an album by Cunéo, another Argentinian artist. Le Mariage de Roberto ("Roberto's Wedding") was published in 1999 by Les Editions Gaies et Lesbiennes, a now-defunct gay publisher (amazon.fr still has copies, as does Les Mots à La Bouche, Paris' biggest gay bookstore). A year before the introduction of the French civil union giving some rights to gay couples, Cunéo, who's worked for numerous gay magazine all over Europe as well as for Aids prevention campaigns, wrote and drew an often very funny satire of the whole gay marriage question, with over-the-top characters and cartoony art. Professing his admiration for Copi, Cunéo proves it by mocking everybody, gays and straight alike, but never lets their flaws overcome his sympathy for his characters.


Another autobiographical (although largely fictionalised) album is Les Folles Nuits de Jonathan ("Jonathan's mad nights"), written and drawn by Jean-Paul Jennequin, and self-published in 2001 - it's now distributed by La Comédie Illustrée, which Jennequin co-founded and for which he now oversees a gay BD imprint, Bulles Gaies ("Gay Balloons", which sounds far better in French than in English). Jennequin is a friend of mine, but I can say I already liked his work before we came to know each other better. Jonathan is a 19-year-old gay student who's about to begin a summer job... and who's fed up with being a virgin. The book will follow him during his first steps into the world of (gay) sex, anonymous or not. The genial ambiance of the story is enhanced by the Jiminy Cricket-like presence of a talking dick which only Jonathan can see and who gives him advice regarding matters Pinocchio was not even aware of. With pared-down art which conveys quite well the emotions of the characters as well as the more sexual aspects of the story, the Folles Nuits make me wish Jennequin could find time to draw more often.

A series already in its 20th year with 16 albums available (a fairly usual rate for a BD series), Tendre Banlieue ("Tender Suburbs") is written and drawn by Tito, a Spanish-born artist who's lived most of his life in France. Now published by Casterman, this series tells stories of teenagers and the world around them, tackling serious and contemporary problems. With "Le Prof" ("The Teacher"), a 1996 album, a young teacher was revealed as being HIV-positive, and we didn't learn whether he was gay or straight - a very good idea, in my opinion. In the 2003 "Le Pari" ("The Bet"), two teenage girls decide to bet to see which one of them will manage to go out with the new, cute boy in their class, who's recently arrived from Québec. One the girls will understand that the Québécois is gay, and their friends will give him some hard time. Preaching open-mindedness (not always subtly) and the acceptance of minorities, Tito's stories are quite popular among the French BD readers. His realistic art is well suited to the kind of stories he tells, and his characters are not TV-cute, but rather believable teens. Tendre Banlieue is a good example of the naturalist BD which are a large part of the French BD market, and can be found at any place that sells French books.

A few months ago, the Bulles Gaies imprint of La Comédie Illustrée published a second book, Jean-François Fait de la résistance ("Jean-François is resisting"), by newcomer Hugues Barthe. Its protagonist is yet another young gay who left his small town and his stifling parents to come to Paris to live his own life... the problem being he doesn't really know how to live it. Between his dreams of becoming an artist (without showing any obvious gifts) and his romantic hopes (although he hasn't tried to meet a new guy in months), Jean-François is a weak-willed young man who's lucky to have friends who prod him. Barthe's art might not be very involving nor sensual, but his humor proves he's got impeccable credentials: from a whole scene in homage to Copi's album I was telling you about above, to a nightmare which ends with the character shouting 'I shouldn't have eaten that cheese fondue' in the manner of a Winsor McCay character, and including the numerous and well-staged comical scenes where the character ridicules himself, the author shows his potential, at least as a writer. This book can be ordered from the publisher's site, or from any French bookstore.

Apart from those gay-themed albums, there are numerous queer secondary characters here and there, but it seems to me there aren't more than in comics (not proportionally, at least), and maybe even less - but I might have that impression because I read less BD than comics.


[ permanent link ]&nbsp [ comment: 0] [ top ]
-------------
Sunday, December 12, 2004



Horror Hospital Unplugged






Here's the review of a 1996 graphic novel I hadn't heard of until recently. Book writer Dennis Cooper and artist Keith Mayerson worked together on Horror Hospital Unplugged, the story of a young, sexually-confused musician.
Visually striking, this compelling book definitely deserves to be widely read.
[ permanent link ]&nbsp [ comment: 0] [ top ]
-------------
Saturday, December 11, 2004
Blog review
If you don't see the images of a review, it means that I've transferred it to the new site.
(List all)

Locas


Category: bisexual, gay-friendly, lesbian, slice-of-life.
Author(s): Jaime Hernandez, Gilbert Hernandez.



Most of you have probably heard of Jaime and Gilbert Hernandez' series Love & Rockets, one of the best indie comics series of the last 20 years. You might not know that the two brothers aren't working together, they're each doing their own stories. I wanted to seize the opportunity of the recent publication of Locas, a very fat collection (more than 700 pages!) of Jaime's stories, to remind everybody that at the heart of those stories is the friendship/love relationship between two women, Hopey and Maggie.

The two girls met when they were teenagers, and the rowdier Hopey quickly fell in love with the seemingly more mainstream Maggie. Jaime's stories, which at the beginning included some sci-fi elements (Maggie is a high-tech mechanic) soon centered on the relationships between his characters, most of them Hispano-Americans. Over the 15 years of stories, Maggie and Hopey went from people around them wondering are-they-aren't-they to one-is-one-isn't, and from living together to not seeing each other from years in a row. Of course, Locas is far more than the story of only two characters, and the very believable way Jaime Hernandez handles his characters aging, putting on weight (a recurrent gag about Maggie) or confront their youthful ideals (a lot of them are musicians, singers on the punk/rock scene), is as compelling as the gorgeous art throughout.

Gilbert's long-running stories have also been collected last year, under the title Palomar. More concerned with family and generations, his stories show an influence of Gabriel Garcia Marquez' magical realism, and while they don't showcase any queer main characters, they're very queer-inclusive.

Both books can be bought from any bookshop, online (like from Mars Import, for example) or not, or from Fantagraphics, the publisher.


[ permanent link ]&nbsp [ comment: 0] [ top ]
-------------
Friday, December 03, 2004
Various news
(List all)

Howard Cruse's art at half-price






Howard Cruse, author of Wendel and Stuck Rubber Baby, has updated his website again and this time, he's selling a good part of his original art at half-price to try and subsidize a new project of his. If you have the cash for it, that's an opportunity you shouldn't miss. More about it on Cruse's site.


[ permanent link ]&nbsp [ comment: 0] [ top ]
-------------