On this page:

•
•
•
•
•
•
•
•


Previous:

• 2021
• 2020
• 2019
• 2018
• 2017
• 2016
• 2015
• 2014
• 2013
• 2012
• 2011
• 2010
• 2009
• 2008
• 2007
• 2006
• 2005
• 2004
• 2003
• 2002

Entries for July 2007:
<previous | next >

Monday, July 16, 2007
Blog review
If you don't see the images of a review, it means that I've transferred it to the new site.
(List all)

Degrassi: Extra Credit #4


Category: slice-of-life.
Author(s): J. Torres, Steve Rolston.
Year of publication: 2007.



I've never watched the Degrassi TV series, a long-lived Canadian series showcasing teenagers at high school or starting college, and yet, I did enjoy reading this manga-sized book (available at Amazon
). There's a short presentation of the main characters at the beginning, which is all one needs to get into the story. This fourth and last--for now, at least--volume of all-new stories all written by J. Torres and set during summer vacations (between seasons of the TV series, if I'm not mistaken) focuses on Ashley, a young woman who's back from a year in England and finds it hard to live again in her hometown, and on Marco, a gay teenager who's just out of the closet as well as of high school, and has trouble balancing all that, with Dylan, his more assured boyfriend, not making it any easier.

Ashley's story is pretty silly, but funny, in my opinion: on the surface, it's about an horrid hat she brought back from England, which she holds on to despite everybody's rather clear dislike of it. Of course, it's all a symbol of her problem adjusting to getting her old life back. The meat of this volume is Marco's evolution: he's shown as having some trouble asserting himself, especially in situations where he'd have to face his family's reactions. He's out to his parents, but parts of his all-Italian extended family don't seem to be very gay-friendly. So, when Dylan, who's slightly older than he is, proposes that they share a place, Marco has some growing-up to do.
Marco and Dylan are engaging characters, with some obvious care given to challenging stereotypes of gays and gay portrayal in mainstream fiction: Dylan is a jock, yet he's perfectly at ease with being gay and is completely out; Marco loves shopping and has some clichéd gay tastes, yet he's the one who's afraid of behaving affectionately in public or of announcing to his parents he's in a relationship. Both are warm, nice people who love each other, despite some bad blood between them.
I've also read the first two volumes in the series (Marco is a background character in the first one), and it's clear that the stories for each of these teenagers are made to highlight issues real-life teenagers can, and often do face. Sometimes, it's a bit heavily done, and sometimes it's well woven into the characters. I think that Marco and Dylan are fortunately in the latter group.
Steve Rolston's art is a big plus, even though there's sometimes a dearth of background. He's very good with expressions and body language, with an open, cartoony art that enables him to bring out the emotions of the characters. He also draws pretty cute guys.
Is reading only this volume worth it? Well, maybe not. But having well-written mainstream teenage fiction tackling interesting and well-rounded gay characters (Marco's "problems" are far from being only gay-related) is, hopefully, a sign of the evolution of mentalities in Western societies. Whether real-life gay teenagers have it easier than we did when I was their age (uh, some time ago...) is another question entirely.


[ permanent link ]&nbsp [ comment: 0] [ top ]
-------------
Monday, July 09, 2007
Blog review
If you don't see the images of a review, it means that I've transferred it to the new site.
(List all)

Rocketship Rodents


Category: anthropomorphised animals, erotica, fantasy.
Author(s): Trejaan, WerePuppy.
Year of publication: 2004-.



The second series published in the Spooo Presents furry anthology (after Coyote River) is Rocketship Rodents, a science-fiction collaboration between writer Trejaan and artist WerePuppy (the artist is in fact Mark Brill, who can draw humans very well, too. He has an upcoming comic from Class Comics).
The first instalment was published as Rocketship Rodents #1 (2004), the second as Spooo Presents #2 (2005) and the third as Spooo Presents #6 (2006), with a fourth coming soon. All are available from Rabbit Valley.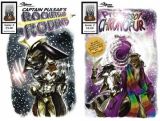 This first story is a rather silly and funny affair, where we meet the main protagonists, the crew of the starship Flaming Stingray, lead by Captain Pulsar, with their friend Major Dick Action. Yes, this is a comic with lots of bad (meaning "good") puns on names (the Major's aide is named Li B. Do!). A scientist has built a new propulsion system, and everybody is on board to test it. Good thing they're all gay, since a side effect of that system is the production of a lust-inducing wave. So, the characters mostly spend their time having fun with each other, which is nice.


The second instalment begins a longer story, this time with equal time given to plot, character development, and sex. A threat is coming toward the Rodents Alliance in the form of a large armada which has already hit hard the Canid Republic. Yay, gay furry space opera!
It's a fun story where the bad guys are really bad, some of the good guys have secrets, and everybody enjoys male-male sex. Ideal life, I guess .
Werepuppy's art is also fun, with distinctive details allowing the reader to recognize all those characters (because the faces sometimes blend together for me) and lots of sci-fi technology (somewhat adapted to fit an erotic gay comic...).


The last two comics also contain a back-up by the same authors, titled Professor Chronofur, about a time-traveller who wears a very long scarf and uses a ship which looks like a telephone box... yes, it's a Doctor Who parody, complete with giant metal dildos shouting "Ejaculate!". Very funny, and even sillier than the first Rocketship Rodents story. I really enjoyed it.
Between the main story and the back-up (which is a show that one of the Stingray crew members watches), the authors of Rocketship Rodents have proven that they can create sexy and fun comics. I'm glad the next issue will be out soon.


[ permanent link ]&nbsp [ comment: 0] [ top ]
-------------
Friday, July 06, 2007
Review update
(List all)

Incubus #2



Author(s): Yayoi Neko.




The recent second issue of Yayoi Neko's Incubus, published by Kitty Media, is a strange beast. The first issue's cliffhanger, which showed the two main characters in mortal danger, is easily and unexpectedly resolved (not that it's incoherent, I was just expecting something else), leaving the story of the second demon somewhat up in the air.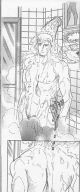 What we then get is a chapter dedicated to an internal monologue of Judas, the young human pursued by Lenniel the incubus (who seems to be unable to keep his hands to himself), with his rational side and his impulsive side battling for control (nice update of the angel/devil appearing in lots of stories: this time, it's more about an unbalanced equilibrium between order and chaos). Judas is a complicated character whose temperament is laid bare in this chapter: completely repressed, he can't accept that anybody, man or demon, could be interested in him, for reasons linked to his raising--his parents weren't really loving, to say the least. That is far more interesting than the usual reasons given in Japanese yaoi for the pursued character to not give in easily ("Ick! A man is in love with me!") , and has nothing to do with the fact that it's a story between two men (that, and the characters look far more manly than what I've seen in yaoi). I guess there are differences between American and Japanese women creating male-male love stories...


The appearance in the last part of the book of Grace, the sister of Lenniel, a tough-as-nails character who's prone to knocking out her brother (because she loves him and wants his happiness, of course), brings a humorous side to a story which tended toward pathos (unrequited love stories often do, after all). Grace also gives the author the opportunity to tell us more about how Lenniel appeared in Judas's life again, after a seemingly disastrous love affair 5 years ago, which lead Judas to forget everything about his lover.
The art is still solid, and mostly influenced by manga, in the storytelling as well as the way of representing adult/children or over-the-top humor.
The only negative point is for me the presence of an important number of spelling mistake. The author needs to get someone to proofread her writing. Apart from that, this 264-page volume (also available from Amazon
) makes for a very pleasant read, going as it does far beyond the deceptively simple premise at the heart of the story.


[ permanent link ]&nbsp [ comment: 0] [ top ]
-------------
Thursday, July 05, 2007
Review update
(List all)

Spooo presents #4: Coyote River



Author(s): Chris McKinley.




Here's the second issue of Chris McKinley's Coyote River series. McKinley was the artist on Associated Student Bodies, and here, he's writing and drawing all by himself. This second issue, published last year as the fourth of the Spooo anthology (I'm really behind on this series, but reviews of the other issues are upcoming), confirms what I'd thought of the first: McKinley is also a good writer.
After the courtship

of the first issue, cityboy Charles and rancher Buck have found a nice rythm, which mainly consists in spending as much time as they can together, with Buck showing the ranch to Charles, as well as a good time. Problem is, Buck is supposed to also work with the other tourists, and some of his co-workers aren't happy about it. Especially Shane, who seems decided to use whatever means he can to get Buck fired.
McKinley nicely manages to blend funny and tender sex scenes (and quite explicit ones at that) with character development, as well as some nice surprises in the way his characters behave. There are also little asides which I thought gave depth to this story, like the use of animal names as slurs, or the unexpected gay-friendliness of most of the ranch staff.
The art is now very strong, with a detailed and varied work on expressions and a fluidity in the line art that gives a lot of warmth to the characters.
I wish Coyote River was published more often (the third issue should be out soon, I'll do my best to not wait too long to review it), but what we get is definitely first-rate.
This comic, as all the other Spooo issues, is available from Rabbit Valley.


[ permanent link ]&nbsp [ comment: 0] [ top ]
-------------
Tuesday, July 03, 2007
Various news
(List all)

Upcoming books from Bruno Gmünder






German publisher Bruno Gmünder has a number of comics/illustrations books planned for the second half of the year. Here's a short rundown:

BLISS – THE ART OF PATRICK FILLION
Comic / Art, 96 pages, full color, hardcover, 19 x 28 cm / 7,5 x 11"
Release Date Europe: August 2007
Release Date USA: October 2007
www.patrickfillion.com/
Patrick Fillion's third book for Gmünder. Another opportunity to discover the work of this Canadian illustrator.


MICKI – SIGHS IN THE DESERT, by Jörg Meyer-Bothling
Adult-Comic, english, 80 pages, full-color, hardcover, 20 x 28,5 cm / 7,75 x 11,25"
Release Date Europe: August 2007
Release Date USA: October 2007
Our newest comic star Micki can't stop thinking about his encounterwith a mysterious Tuareg – so Micki goes on an arduous search for him through the Sahara. On his journey he stumbles from one sexual adventure into the next. But no valley is wide enough and no mountain his high enough to keep him from finding his true love. Micki's touching naïveté and his sex appeal help him master even the diciest of situations.
Author and artist of this comic spectacle is Jörg Meyer-Bothling who studied graphic design at Cologne's College of Design. Since graduating he works as a freelance illustrator in advertising. MICKI is Meyer- Bothling's first comic release.
DIRTY LITTLE DRAWINGS by the Queer Men's Erotic Art Workshop Art
320 pages, full-color, hardcover, 17 x 17 cm / 6,75 x 6,75"
Release Date Europe: September 2007
Release Date USA: November 2007
New York City six years ago – a small group of fourteen young restless gay artists joined forces. Frustrated that the drawing courses on offer only had nude models in academic poses they decide to take matters into their own hands. Thus the QUEER MEN'S EROTIC ART WORKSHOP was born! In the following years the group expanded to almost 100 gay artists and their collaboration proved to be quite fruitful. Together they produced around 12,000 drawings – DIRTY LITTLE DRAWINGS.
This anthology is the outstanding result of this inspiring project. It is also a fascinating glimpse into New York's gay subculture on an impressive 320 pages. It's a very revealing book full of sexual tension and is a lovely slice of gay emancipation! This book will definitely make quite a splash! www.leslielohman.com/workshop.htm
PORN*POPS – DAYDREAM, by P239
Comic / Art, 80 pages, full-color, brochure, 17,5 x 23,5 cm / 8 x 9,25"
Release Date Europe: October 2007
Release Date USA: December 2007
Jazzy, luscious, colourful and playful – P239's graphic interpretations of gay life really hits the spot. Stick figures were never so sexy, horny and such total sluts! Thanks to P239's unique aesthetic, DAYDREAM is a very special comic experience. The artist experiments with a variety of graphic styles and combines them with short erotic texts. It's an exhilarating visual trip that starts anew every time you open the book.
P239 studied communication design in Frankfurt, where he still lives today. He creates many of his illustrations for his own amusement. He works as the creative director and co-partner of an advertising agency.
www.p239.com
QUEERVILLE, by Tom Bouden
Adult-Comic, 80 pages, full-color, hardcover, 22 x 29 cm / 8,5 x 11,5"
Release Date Europe: October 2007
Release Date USA: December 2007
Very libertine contents in a "Tintin" style as sweet as can be – that's Tom Bouden's speciality. Last year the artist celebrated a huge hit with DAVID & JONATHAN – now comes the unofficial sequel to the Belgian happy-go-lucky tales with new ones from QUEERVILLE. Bouden's stories are intelligent, sexy and as always close to real life! For 15 years Belgian artist Tom Bouden has been a sought-after artist for gay comics, although he doesn't want to be pigeonholed into this one genre. He has written plays, manuscripts for television shows and even the Walt Disney Company has come calling! Following the success of DAVID & JONATHAN, QUEERVILLE is Bouden's second publication with Bruno Gmünder Publishing.
www.TomBouden.be

There's a nice balance between already published artists like Patrick Fillion and Tom Bouden, and new creators (P239 and Jörg Meyer-Bothling only had some illustrations in Stripped) - and they all work in very varied styles. I definitely look forward to reading these books, and I'll review them when they're available.


[ permanent link ]&nbsp [ comment: 0] [ top ]
-------------

Various news
(List all)

Cavalcade of Boys is back






Tim Fish is relaunching his delicious Cavalcade of Boys series, this time as a weekly feature for a gay newspaper. If things go well, Fish intends to do a collection down the road. This is great news!
Here's the press release:

Series creator Tim Fish proudly announces the return of CAVALCADE OF BOYS on July 5, 2007, as a printed weekly series in Boston's LGBT newspaper, BAY WINDOWS. The new series will be a continuation of the original series featuring familiar characters in a stand-alone story.

Continuing on the success of the comic book series and trade paperbacks published by Poison Press, BAY WINDOWS and Fish have agreed to run all new material. "I'm thrilled," says Fish. "It's a very rare opportunity for a comic creator to be given an ongoing full-page series in a newspaper."

The live area of the paper's pages is 10"x14" which presents a unique canvas for a comic series. The original series was presented in the more traditional format of comic books. "I'm still getting used to the layout and orientation of the page, but I'm happy with the story line I'm developing," commented Fish.

The new series will focus on realistic characters and situations, just as the comic books did. However, the BAY WINDOWS series' cast will be smaller and the storyline more focused.

For more information about BAY WINDOWS www.baywindows.com
For more information about Tim Fish www.timfishworks.com
For more information about CAVALCADE OF BOYS www.poisonpress.com


[ permanent link ]&nbsp [ comment: 0] [ top ]
-------------

Various news
(List all)

A Midnighter overview







I thought some of you might be interested in this: I've written for AfterElton.com an overview of the way the gayness of Midnighter has been written - for those of you who don't read superhero comics, Midnighter and his other half Apollo are gay analogs of Batman and Superman, and were created for Wildstorm (now part of DC) by Warren Ellis and Bryan Hitch.
He's the first gay superhero who got his own series, and there's much to tell about the way his sexuality has been handled.
In case you'd also like to check these, I've co-written two other articles for the same site (both with the Gay League's Joe Palmer), one an overview of gay characters in mainstream comics, the other one an appreciation (if I can call it that) of Frank Miller's 300.


[ permanent link ]&nbsp [ comment: 0] [ top ]
-------------
Sunday, July 01, 2007
Blog review
If you don't see the images of a review, it means that I've transferred it to the new site.
(List all)

Gay Art


Category: illustration.
Author(s): Various artists.
Year of publication: 1972, 2006.



Here is the third gay illustration book published by Arsenal Pulp Press, after Out/Lines and Lust Unearthed. Anthologist Thomas Waugh has also worked on Gay Art, but this time, in collaboration with Felix Lance Falkon, since this book is an updated reprint of Falkon's 1972 book, the first of its kind.
Gay Art (available from Amazon
) is divided in three parts: a short history of male and gay illustration (from Ancient Greece to modern times), seven focus on artists (well-known or almost forgotten), and a thematic collection (from orgies to youth and S/M). At 250 pages and in a large format, it's a hefty volume, with plenty of styles and themes included, as well as short essays by Falkon, and new (often funny) comments by Waugh for each picture.
For me, the most interesting thing about this book is the way new information was found between the two versions, and how censorship has evolved since the beginning of the 70's. A lot of artists which Falkon is writing about have since revealed their real name (Falkon himself drew some of the art under a pen name), but some are still completely mysterious. I find rather moving the idea of those anonymous drawings from decades ago, when men couldn't freely love each other (ok, it's not completely free nowadays, but it's far better in Western countries). As for censorship, most images showing gay young men (I don't know the "age" of the guys originally drawn, but it seems to me they were late teenagers) are now cropped, while the very violent bondage/domination ones (some showing blood and torn members) are left intact, which says a lot about our society's hang-ups. The idea of youths having a sexual life is taboo, but the fantasies of sex mixed with violence are ok.
A large number of the illustrations included in this book weren't in Waugh's previous two books, and some were even completely new to me. For that, and for the late 60's/early 70's perspective of the original author on art, gay rights and society, Gay Art does deserve its subtitle, "a historic collection".


[ permanent link ]&nbsp [ comment: 0] [ top ]
-------------