On this page:

•
•
•
•
•
•
•
•
•


Previous:

• 2021
• 2020
• 2019
• 2018
• 2017
• 2016
• 2015
• 2014
• 2013
• 2012
• 2011
• 2010
• 2009
• 2008
• 2007
• 2006
• 2005
• 2004
• 2003
• 2002

Entries for July 2002:
<previous | next >

Saturday, July 20, 2002
Blog review
If you don't see the images of a review, it means that I've transferred it to the new site.
(List all)

Adam & Andy


Category: .
Author(s):



Online strips are another reason to enjoy my summer vacations: I've got enough time to read whole archives in a short time! So, without further ado, another short review, this time about Adam & Andy, James Asal's strip.

The main characters are, well, Adam and Andy, two guys in their late thirties who've been living together for about 15 years (like James Asal and his partner). They're beefy, good-looking... and there end the stereotypes. They act like people their age, worry (a lot) about bills and house repairs, and they don't have fabulous jobs. Adam works in a bank, and it's a shitty job, redeemed only by friends at the worksplace, and the fact that it does pay bills. Andy works in a restaurant, in a much friendlier atmosphere, and he's the more laidback of the two. Their very loving relationship is also very realistically portrayed. Another interesting aspect are the little barbs towards the so-called "gay community" and the gay magazines, with their uniformity which tries to pass for diversity. We live in a society which does not encourage people to think for themselves, and the gay part of this society is not really any better in that respect.
As for the art, James Asal's has improved a lot, with face expressions becoming more varied over the years. The black & white art is now full of life, and I must admit being happy that color, which had been added to the strip for a time, has now been removed. I think Asal's lines are good enough to not need any color enhancement.
No color, down-to-earth characters and themes... forget about glamour. This is definitely a strip about everyday love and friendships.

[Addendum, 10/18/03: The first collection of this strip is now available. See my review.]


[ permanent link ]&nbsp [ comment: 0] [ top ]
-------------
Friday, July 19, 2002
Blog review
If you don't see the images of a review, it means that I've transferred it to the new site.
(List all)

Jane's World


Category: humor, lesbian, slice-of-life.
Author(s): Page Braddock.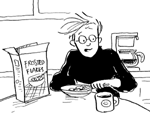 I've been reading the Jane's World strip by Paige Braddock. You might have seen the link I've put in my Links page, but I wanted to say a bit more.
The eponymous character is Jane, a lesbian who's sharing a house with Ethan, a straight childhood friend. They both have slightly complicated love lives, which fuel the strip. Apart from the fact that I find the strip very well drawn, with well defined faces and good body language, I also found the constantly evolving relationships between the characters very engaging (lovers and ex-lovers fill the strip with ever-expanding possibilities...). Another amusing aspect of the strip is its flights of fancy into fantasy, like the time Jane is abducted by blue aliens and a character is turned into a chimp. Quite unusual in slice-of-life strips.
With almost four years of archived strips, you're in for a few good hours of reading. And there's a collection with the first two years of the strip. I've ordered it, because I think Paige Braddock must be supported in her work. Read some of the strips, I'm sure you'll feel like buying the book, too. And she draws cute guys, even if they're straight. What are you waiting for?
[ permanent link ]&nbsp [ comment: 0] [ top ]
-------------
Wednesday, July 17, 2002








I've already written reviews of some gay furry series (see Associated Student Bodies and Circles), and I didn't think there were other series of this type in print (although there are short stories in anthologies, like in Furnation).
Well, it seems I'd missed at least one series. On the Gays & Comics forum, we've had the pleasure of chatting with Elin Winkler, publisher of Radio Comix. She told us about Genus: Male, an anthology of adult (meaning, porn) gay furry comics and Havoc Inc., a sci-fi furry series featuring a gay couple (a collection of the first four issues has also been published). I've read only the former yet, and it was fun, but I'll order the latter soon and probably write a review when I can. In the meantime, have a look for yourselves.


She's also told us that they were planning a yaoi anthology, with American artists, and that Daria McGrain, the instigator of the Genus: Male title, was working on a new gay (non furry) series called Sexual Espionage, about a couple of spies.
It looks like Radio Comix is a publisher to watch for gay readers...
[ permanent link ]&nbsp [ comment: 0] [ top ]
-------------
Sunday, July 14, 2002








I've been rereading The Desert Peach for the intended review. It's definitely one of the most intelligent comics (or "drawn books", as Donna Barr calls them) I've ever read. As researched as From Hell, as weirdly funny as Monty Python... and then there are all the bits which are no-one's but Frau Barr's. But more about that in the review.
I'd completely forgotten that Pfirsich (if you don't know who that is, go to Donna Barr's site) had been a math teacher after WWI. Just like me! Well, I'm still a math teacher. The difference between Pfirsich and I is that I like teaching, as odd as that might seem to some people. Working with kids is, for me, far more challenging than being behind a desk with only sex-deprived grown-ups for company. That doesn't mean it's always easy or even rewarding, but at least, it's never dull.
[ permanent link ]&nbsp [ comment: 0] [ top ]
-------------
Saturday, July 13, 2002








And hello to the first readers. There won't be many of you.
[ permanent link ]&nbsp [ comment: 0] [ top ]
-------------

Blog review
If you don't see the images of a review, it means that I've transferred it to the new site.
(List all)

I Married an Earthling


Category: .
Author(s):



I don't know about you, but I never buy a book because of its cover. Nor a comic, for that matter.
Well, I shouldn't say "never". I've recently bought -and read- I Married An Earthling, a book written by Alvin Orloff and published by Manic D Press about two years ago. The reason why this book came to my attention was that the drawing on the left served as a cover for the book.
Those of you who have visited my pages on Maurice Vellekoop's work know how much I love his work, and this is no exception.

This book is one of the most amusing I've read in a long time. It's a kind of Absolutely Fabulous meets Close Encounters of the Third Kind. A down on his luck professor from planet Norvex 7 decides to take a field trip to the object of his studies: Earth. On his perfect planet, everybody's fabulously dressed, everybody's having great sex and hairdressers are the crème de la crème. Imagine the culture shock that the inhabitants of Norvex 7 will suffer when they discover that life on our backward ball of mud is very different from the TV series they'd mistaken for documentaries... On the other hand, some earthlings will also experience bewilderment at the sight of these aliens, far taller than E.T. and definitely cuter. One Chester Julian, a gay goth teenager, will be among those whose life will not be the same after they've met these visitors.
I'm not going to tell you anything about the proper story. It would be a pity. Suffice it to say I was giggling throughout the book and laughing out loud more often than not.
Which just shows that sometimes, a book can be judged by its cover.
[ permanent link ]&nbsp [ comment: 0] [ top ]
-------------









Well, I've been having a really nice e-mail exchange with Donna Barr, author of the excellent The Desert Peach. She has just published a new collection of the first - and mostly out of print - seven issues.
Expect a review of this delightful series in the coming days.
[ permanent link ]&nbsp [ comment: 0] [ top ]
-------------









So, what will this be about?
Not me, mate.
Probably comics, books, music... whatever. Maybe even work.
[ permanent link ]&nbsp [ comment: 0] [ top ]
-------------









Well, this is my first post here, just trying to get the feel of this thing. And editing the hell out of the template.
[ permanent link ]&nbsp [ comment: 0] [ top ]
-------------