On this page:

•
•
•
•
•
•
•
•
•
•
•
•
•
•


Previous:

• 2021
• 2020
• 2019
• 2018
• 2017
• 2016
• 2015
• 2014
• 2013
• 2012
• 2011
• 2010
• 2009
• 2008
• 2007
• 2006
• 2005
• 2004
• 2003
• 2002

Entries for January 2005:
<previous | next >

Tuesday, December 27, 2005
Blog review
If you don't see the images of a review, it means that I've transferred it to the new site.
(List all)

Pinned! vol. 1


Category: yaoi.
Author(s): Yamila Abraham, Studio Kosaru.



Last summer, our guest reviewer Tina presented a title from Yaoi Press, an American publisher working in the yaoi genre.
For my part, I've read Pinned!, another of their title, by writer Yamila Abraham and the Indonesian artists of Studio Kosaru. This story is set in the wrestling world, which I must admit holds absolutely no interest for me - to my eyes, it just looks like a particularly badly-written superhero comic. But that didn't prevent me from enjoying Pinned!.

Synn is a young straight wrestler who's just reached his dream of being enrolled in the most important wrestling group. That, and his childhood hero, the man called Renegade, seems very interested in the young man. Very, very interested indeed. Synn soon hears bad stories about Renegade: he'd abused other young wrestlers, holding out the prospect of a big career to take them to bed. Yay, a gay man abusing young straight guys. Doesn't sound too good, now does it? Well, despite the rather stereotypical set-up, I found myself gripped by the story, mainly by the way the writer manages to keep up the tension between the characters by showing that things are not what they seem, and the bad guys might not be where Synn thinks they are. There's a lot of duplicity and treachery in this story - if not for the fact that it's about semi-naked muscley guys wanting to boff each other, it would remind me of classical stories of political intrigue. The art is also attractive for me: instead of the androgynous boys which seem to be everywhere in yaoi, we get well-built masculine guys who are in fact drawn more realistically than most superheroes, since their bodies don't look like each sinew and muscle is tensed to the point of breaking.
So, I'm ambivalent toward this book: some aspects of the story are not to my liking (although I have to keep in mind that it's not written for gay men), but I think it's rather well-drawn and well-written. The addition of a few full-page drawings and sketches at the end of the book is quite nice, too. Oh, and there's a cliffhanger at the last panel that made me shudder (it's really terrifying) and laugh (it looks a bit far-fetched) at the same time. All in all, I'd buy a second volume of this story, which is the most important thing, after all.


[ permanent link ]&nbsp [ comment: 0] [ top ]
-------------
Sunday, December 25, 2005
Various news
(List all)

Comments on my reviews






I'm adding a comment system for the reviews, too. I'll add an entry on this page for each review, and you can comment on it, ask questions regarding the review or the comic reviewed, as you feel like.
Comments are open for two months after I upload this entry.
So, comments for the Prime Cuts review can be added with the 'comment' link just below.


[ permanent link ]&nbsp [ comment: 0] [ top ]
-------------
Sunday, December 04, 2005



A comment system






I've added a comment system below each post here.
I'll see whether it's used and, more importantly, whether I don't get too much spam. I can delete each comment, but I don't feel like spending my time doing that...
The comments will be open for two months after the addition of each of my posts.
If you think I should tweak the system or if you think it doesn't work properly, please add a comment below this post, or write me.


[ permanent link ]&nbsp [ comment: 0] [ top ]
-------------

Various news
(List all)

Jayson collected, and a new König book



Author(s): Jeff Krell, Ralf König.



In this month Previews magazine for comics to be published in March 2006, we find two gay graphic novels from Ignite! Entertainment: JaysonVol. 1: Best of the 80's by Jeff Krell, and Ralf König's Maybe, Maybe Not, which had already been published in English some years ago.
Jayson is a kind of sitcom about a gay guy, his straight girl friend, and a flamboyant gay friend of his. As for the König book, it's a social comedy about a straight guy who just got dumped by his girlfriend and goes to a men's group where he meets a gay guy. This book was done as a film, and a rather bad one, I must say.

--------------
Addition (01/03/06): Two sequels will also be published.


[ permanent link ]&nbsp [ comment: 0] [ top ]
-------------

Various news
(List all)

A French manga against AIDS







An interesting project has been published for the December 1st AIDS day in France: Réseau Positif (Positive Network) is a 120-page comic in the format of mangas, drawn in the mainstream style of those comics. It's also an original prevention tool, aimed at young people.
Launched by people working for the SNEG (A French organization for gay businesses) with funds from public organisms, it's been drawn by a 17-year old guy, who worked with professional artists for the layouts and general art direction.
It's the story of a group of young people who run a small underground network against the lies of large industries, led by a man named X. When X announces that he's HIV positive, the group is obviously in turmoil, and the eight young people decide to learn more about aids, confront their prejudices, and in the process, the gay and bisexual ones come out.
Printed to 63,000 copies, which are given for free in various public health places, this "manga" is also available online on the official site.
[ permanent link ]&nbsp [ comment: 0] [ top ]
-------------
Saturday, December 03, 2005
Review update
(List all)

Tales from The House of Morecock Volume 2



Author(s): Joe Phillips.



Hot on the wheels of the first volume, here's volume 2 of Joe Phillips's Tales from The House of Morecock (available in all bookshops, including Amazon).
This time, we get four stories from the DVD, as well as two all-new ones, done for this collection: an alien abduction (Jonas meets two very good-looking male FBI agents who 'rescue' him), a vampire looking for his lost love (as if Lestat wasn't homoerotic enough), a lumberjack friends with Bigfoot (yay for nice bears), a trip in Japan where Gozilla almost provokes a coitus interruptus, another to Africa which shows a rather large gorilla in the midst of male bonding, and a philosophical discussion between an angel and a demon regarding Jonas's soul - the philosophical quickly becomes physical.
As in the first book, the sex is always fun, multicultural and Phillips even manages to follow a great comic book tradition: the lying cover... Because, no, Jonas doesn't meet the Creature from the Black Lagoon. Maybe in a third volume?


[ permanent link ]&nbsp [ comment: 0] [ top ]
-------------
Sunday, November 27, 2005
Review update
(List all)

True Travel Tales: Tsunami



Author(s): Justin Hall.



Justin Hall is back for another mini-comic in his series of True Travel Tales, where he draws true-life stories travellers have told him, as well as his own stories, some of which have a gay theme.
In Tsunami, we get the story of a woman who was in Thailand when the recent earthquakes created a tsunami and killed so many people, an illustrated text where Hall recounts highlights from his 2004/2005 East Asia journey, a short encounter in Myanmar between him and an American who's smuggled pot in a jar of peanut butter, and finally a quiet moment where Hall draws a Cambodian moto-taxi man.
As usual, the tales Justin Hall illustrates range from very serious to silly and sweet, with his down-to-earth art focusing on people's faces and local details. Although there's no gay element in this 20-page collection, it's certainly worth the few dollars Hall is asking for it on his website.
[ permanent link ]&nbsp [ comment: 0] [ top ]
-------------
Saturday, November 26, 2005
Review update
(List all)

The Desert Peach #31



Author(s): Donna Barr.




Donna Barr's The Desert Peach is back at last for a very weird story, probably one of her strongest: Pithed - that's something done to frogs (look it up, it's not nice). Pfirsich, Rommel's prettiest (and fictional) brother is dead, and in Hell. How he ended up there is part of the story, and as usual, Barr manages to make us think and laugh at the same time - and no, it's got nothing to do with him being gay. He often chats with his also dead grandson, a 20th-century neo-nazi who really can't stand his faggot, Jew-lover grand-father. Then, there's the distant descendant of Pfirsich, a young man named Oiseau (that should remind something to long-time readers), who lives on a spaceship above Earth, in a future where the planet is devastated, people have to buy capsules of air to survive, and white people are mostly extinct. Oiseau, not a particularly nice person, is an air dealer. Pfirsich will find himself reappearing at that future time as a "shoulder angel", for the (possible) benefit of his grand-grand...-grand son.
If all that sounds crazy, wait until you read the whole 64-page comic. The dark humor, the biting satire of the behavior of white people toward the rest of the world (and each other) throughout history (for that's what that whole Hell-bound story revolves around) will make you cringe, laugh, maybe weep, and, if you're the least bit informed about the history of France/England/Germany/USA/etc., nod with despair.
The art is as engrossing as usual, with for the first time color added. Vibrant, warm colors, ranging from (almost) realistic to expressionist. As if Barr needed anything to heighten the energy of her pages.

There are no sacred cows in Donna Barr's world, but that doesn't mean she's a Nihilist, far from it. The theme of the acceptance of others, of respecting differences and the world we live in, present in all of her stories, should be of interest to any queer reader.

This perfect-bound, all-color drawn novelette is available from Lulu.com (they have free shipping for orders betwen $25 and $100).

---------
Edit 20/01/2006: a cheaper, black and white version will be published on May 1st, 2006.


[ permanent link ]&nbsp [ comment: 0] [ top ]
-------------
Wednesday, November 23, 2005
Various news
(List all)

Ralf König's rabbits







A new book by Ralf König is announced in the Adults section of the November Previews magazine, which means it should be out around February.
Published by the Spanish publisher La Cupula (yes, it's in English), Like Rabbits is the story of two neighbors on the same floor, one gay and one straight, who find companionship while pining for their dream (sex) mate. Lots of sex and fun, as well as a few pointed reflexions on the relationships between men and women...


[ permanent link ]&nbsp [ comment: 0] [ top ]
-------------
Friday, November 18, 2005
Various news
(List all)

Tim Fish at Marvel



Author(s): Tim Fish.



The upcoming Marvel comics for February 2006 are listed at various sites, like CBR, and that month, Marvel will publish a few romance comics centered on their characters.
Among those comics can be found this:

I (HEART) MARVEL: MY MUTANT HEART
Written by DANIEL WAY, PETER MILLIGAN & TIM FISH
Penciled by MARCOS MARTIN, KEN KNUDTSEN & TIM FISH
Cover by GEZ FRY
Three offbeat stories of love and romance from the mutant corner of the Marvel Universe.
32 PGS./T+ SUGGESTED FOR TEENS AND UP ...$2.99

Guess what will Tim Fish be working on? A Northstar story, that's what! So, the best-known Marvel gay character will get a short romance story written, drawn and inked by Tim Fish, author of the entertaining gay romance series The Cavalcade of Boys.
I think it's rather cool of Marvel to do that, since most gay characters at the big publishers are never given boyfriends - that would make obvious their being gay, I suppose...

EDIT 18/11/05: It won't be a Northstar story after all... I'd really like to know what happened, because frankly, it looks pretty bad for Marvel to decide to not do a romance story with one of their few gay characters.


[ permanent link ]&nbsp [ comment: 0] [ top ]
-------------
Monday, November 07, 2005
Various news
(List all)

Sticky collected






Things are moving pretty fast in (gay) international publishing: Dale Lazarov has just announced that his and Steve MacIsaac's series Sticky will soon be collected as a hardcover by Bruno Gmünder Verlag, a gay German publisher who already proposes Joe Phillips books in English.
The collection will be published in April 2006, it will be 80 pages long, with 5 all-new color pages showcasing the cover guys. It will be priced $19.95.
If you want to keep up-to-date with all things Sticky, go and subscribe to the dedicated Yahoo group.


[ permanent link ]&nbsp [ comment: 0] [ top ]
-------------
Friday, November 04, 2005
Blog review
If you don't see the images of a review, it means that I've transferred it to the new site.
(List all)

Devlin Waugh: Red Tide


Category: fantasy, gay-friendly.
Author(s): John Smith, Colin MacNeil, Steve Yeowell.



The best-dressed occult investigator is back in Red Tide (available everywhere, for example at Mars Import), the second and last collection of his exploits, originally published between 1999 and 2003 in 2000 AD and another magazine. After the events of Swimming in Blood, Waugh has retired from the good fight, having revealed his vampiric condition to the world. But a new large-scale threat to the world is raising its head, and this time, Devlin Waugh won't be able to stay out of it, sheltered by fine wine and willing boys.

Writer and co-creator John Smith is joined for this 150-page story by Steve Yeowell, a British artist who's worked with Grant Morrison (Sebastian O) and James Robinson (Starman). I must admit I'm usually not really convinced by Yeowell's art, but here, he uses a clean and solid style which works extremely well, in my opinion. His handsome men and boys are attractive and his monsters are suitably horrifying and subtly seductive. Even more than in the first volume, Waugh's gayness is made perfectly clear, as the character is still played as a dandy with teeth (pun intended). Smith's dialogue brims over with witticisms and repartees amid the bloody carnage. I found myself captivated by this horror story, which uses its length to good purpose: a lot of characters are introduced, and the action sequences don't take precedence over the ambiance-building moments. Definitely one of the most entertaining stories I've read recently.
A second 80-page story drawn and painted by Colin MacNeil completes the book, with Waugh going face to face again with the vampires who had turned him. For me, it's less fun than the first story, but I'll say there's more action.
I'm sorry there are only two volumes of Devlin Waugh's adventures. From what I've read, the character was very popular with readers when it was first published in the U.K. Can you imagine a popular gay dandy character in an American action comic? Well, I can't. Not that I can imagine it in a French action comic, either. Let's just be thankful that British comics seem to leave the door open to idiosyncratic characters, and that writers like John Smith can play in the world of Dredd.


[ permanent link ]&nbsp [ comment: 0] [ top ]
-------------
Saturday, October 29, 2005
Review update
(List all)

Sticky #3



Author(s): Dale Lazarov, Steve MacIsaac.



On this third issue of Sticky, the color is orange, which suits the full-length story entitled "Treats" (right, there's an obvious joke there), where two men meet at an Halloween party. The fun continues for the pirate and the monk when they go home together... and have sex. You hadn't seen that coming, had you?
As with the first two issues, the story is wordless, and very well paced. The guys are mature, one hairy and one hairless, and both are fairly muscled. The sex is reciprocal, and there's a wonderful double-page spread where a long toy and two asses are involved.
This third issue of Sticky will unfortunately be the last one, due to low sales. But Dale Lazarov and Steve MacIsaac are trying to find a new publisher to collect the whole mini-series in one book, so maybe we'll see another incarnation of this entertaining porn comic, this time with a larger potential audience. MacIsaac is also working on a self-published series he'll do on his own, titled Shirtlifter, for which he received a grant from the fine folks at Prism Comics. Go to his website for more about that project.
----------------
Nov. 7: Sticky will be collected in April 2006.


[ permanent link ]&nbsp [ comment: 0] [ top ]
-------------
Sunday, October 23, 2005
Blog review
If you don't see the images of a review, it means that I've transferred it to the new site.
(List all)

2020 Visions


Category: fantasy, gay-friendly.
Author(s): Jame Delano, Frank Quitely, Warren Pleece, James Romberger.



Jamie Delano is a British writer who began working for DC Comics a few years after Alan Moore - he launched the Hellblazer series showcasing John Constantine, the character created by Moore, Bissette & Totleben in their Swamp Thing series.
Unfortunately, Jamie Delano never managed to be as recognized as Moore, Neil Gaiman or Peter Milligan, maybe because he never really did super-hero comics, and he seems to have left comics. It is a shame, since he has a very unique voice, with an unromantic view of life and a real ability to build moving characters.
2020 Visions is a 1997 12-issue series he wrote for the Vertigo imprint, containing four slightly connected stories set in 2020, in a USA which has fallen low. It has now been collected in a trade paperback by Speakeasy (after a hardcover by Cyberosia Publishing last year), published last month.
Each story follows the life of a member of a family who've have long lost touch with one another, and it's rather gay & lesbian inclusive - but don't read this looking for nice love stories.
The first story (drawn by Frank Quitely), Lust for Life, revolves around Alex Woycheck, an old guy who lives in a very different Manhattan, where rich people are cloistered in high rises, sheltered from the many diseases which infect the less fortunate population. Woycheck makes a living off selling old porn works, now illegal in the current fascist feminist regime (and no, this is not a anti-feminist story, far from it). Woycheck is still in contact with an old flame of his, a not rich but not poor woman who lives with two women and has sworn off men in general and Woycheck in particular. They'll meet again on Ellis Island, now a quarantine camp for the infected. In the midst of such a dark and cold future, some human warmth will be found between the old lovers.
The second story (with art by Warren Pleece), while not showcasing queer characters, has gender-bending ones. Jack Atlanta is the daughter of Woycheck, but hasn't seen him in decades. In Nueva Florida, babies aren't easy to make, since men are highly infertile, due to chemical pollution. Jack is a private detective, dressed as a man, with sexual tastes tending to the virtual. She'll find herself involved in a baby-smuggling affair. Jack had two boys in a violent situation, and the babies were taken from her without her consent. One of the boys, Ethan, is the main character of the third story.

Renegade, drawn by Jame Romberger (artist of the David Wojnarowicz autobiographical comic Seven Miles a Second), takes place in Detroit - now the home of black Muslims who live by the Shariah - and in Montana, where tribes of native Americans fight a guerrilla war with White supremacists who like to nail their adversaries to burning crosses. Not that the Indians are nicer to their enemies... Obviously, Detroit is not a good place to be for a gay teenager who hustles and steals, and Ethan is sent to prison, but is quickly bought by a Montana farmer. There, during a hunting party against squatters, he meets Chico D'oro, a handsome young Indian who befriends him. But Ethan has never known anything but betrayal and violence... This chapter, the more gay-themed one of the four, is also the most violent, and finally the most romantic, in a despairing kind of way.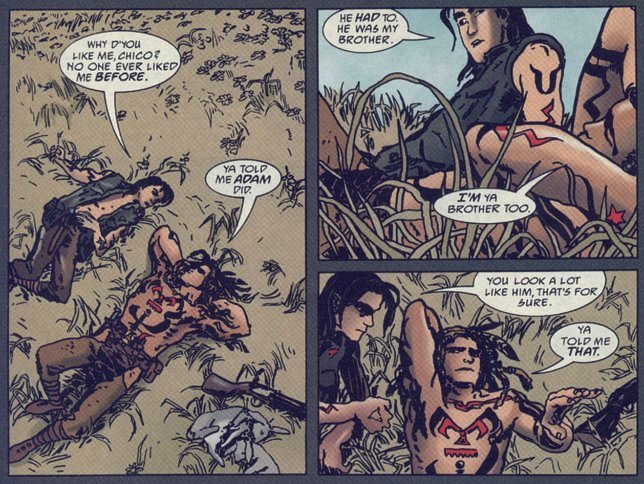 The fourth story, drawn by Steve Pugh, is about Adam, Ethan's long-lost brother, who looks like the classic Californian surfer boy, very different from Ethan, a dark, skinny and cross-eyed boy. Adam is more or less a sperm bank on legs for the women running Los Angeles, where people, as in the rest of the country, take great pain to ensure reproduction is done following scientific rules. Which means that Adam, a healthy boy with a great physique, is a prize bull. He'll be kidnapped by a female rebel group, and his life will take a less safe, but also less controlled, turn.

As you can see, the 2020 Visions stories are highly concerned with gender relations, which logically includes queer characters. In that world, it seems the patriarchal system is largely down, but the matriarchy isn't doing a better job running things... Delano had already commented on the gender wars in World Without End, a science-fiction 1990 mini-series drawn by John Higgins and published by DC, where, in the far future, men and women live separately, and where fanatics trigger war on a global scale. Over-the-top and evocative, this was a very impressive comic which unfortunately didn't make the impact it should have had. Delano's stories are usually rather deep and dark, but not in the grim-and-gritty way of a lot of super-hero comics, only in a more real-world way, despite their fantasy settings. 2020 Visions is a book which deserves a second chance with more mature readers who like their fiction, as outrageous at it seems at first glance, to have some relevance to today's world.


[ permanent link ]&nbsp [ comment: 0] [ top ]
-------------